Anxiety, depression rates stay high as COVID emergencies end
The federal government's twin COVID-19 emergencies ended officially on Thursday after more than three years in place. With the national and public health emergency declarations ended, here's a look at some of what will be different going forward.
Among the biggest changes, private insurers and Medicare will no longer be required to provide eight free at-home COVID tests per month, to fully cover testing-related medical visits and to provide free vaccine doses and COVID treatments. Medicaid will also no longer have the option to cover the uninsured for testing, vaccines and treatments.
Health insurance will now cover COVID testing, vaccines and treatments as it normally would, including requiring a copay or prescription depending on your insurance plan.
Telehealth coverage and flexibility, which expanded during the public health emergency, will remain in place until Dec. 31, 2024.
Grow the Future of Public Media
MPR News is supported by Members. Gifts from individuals power everything you find here. Make a gift of any amount today to become a Member!
One change that directly impacts our COVID updates: The federal Centers for Disease Control and Prevention will no longer report new infections since it will lack the authority to require states to report new cases. This also means that the CDC will no longer update its COVD community level assessments since data about new infections is one of the metrics used to determine those community levels.

The CDC will continue to collect and report data regarding hospitalizations, deaths and other COVID metrics. Minnesota Department of Health has not yet announced any changes to its data reporting. We will continue to collect and summarize that data weekly on the APM Research Lab's COVID in Minnesota data page.
Now to this week's COVID data, as well as a check-in on mental health at the end.
COVID cases, hospitalizations and deaths continue to decline
Officially reported COVID-19 cases were down again in the last two weeks. Looking across the state, most regions report cases holding steady or declining in recent weeks.
The exception is northwestern Minnesota, where case reports are up from last week, to around 40 cases per 100,000 residents. But this is still less than half of the case rate seen in that region in late December. Official case reports come mostly through healthcare providers, and thus don't include results from at-home testing.
Hospitalizations may be a more reliable estimate of the current severity of the pandemic. Those continue to decline. Both intensive care unit and non-ICU admissions are near their lowest since the start of the pandemic.
Deaths in April leveled off somewhat after declining throughout March. In mid-April, the most recent period for which data is more complete, there were an average of about four COVID deaths per day in Minnesota. The highest daily average of the year so far was in early January, when there was a short stretch averaging 10 deaths per day.
Despite recent bump, COVID wastewater levels trending down
Twin Cities metro update
The total level of the COVID-19 virus in Twin Cities wastewater increased by 24 percent for the week ending May 7 compared to the previous week, according to the latest data from the Metropolitan Council and the University of Minnesota's Genomic Center. Despite this increase, the virus level is 62 percent lower than in mid-February.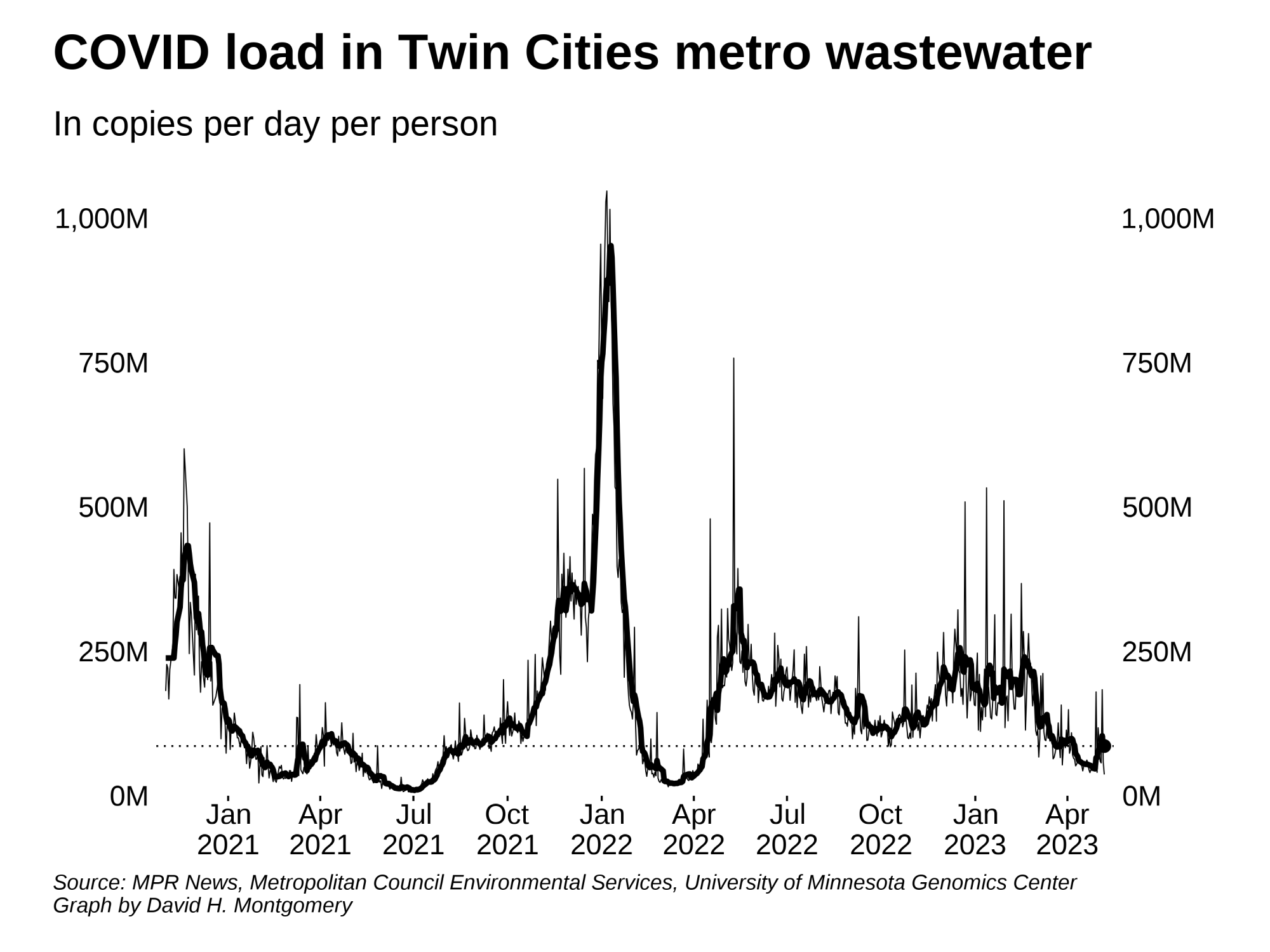 Statewide update
COVID levels dropped substantially in all seven Minnesota regions over the most recent four-week period, according to the latest data out of the University of Minnesota's Wastewater SARS-CoV2 Surveillance Study. There were modest one-week declines in four of the study's seven regions and slight increases in the North East, Central and South West regions. 
Over the four weeks ending on April 30, COVID wastewater levels dropped by more than 50 percent for all the study's regions except the North West region, which was just shy of that threshold with a decline of 45 percent. The largest four-week decline was 89 percent in the South Central region.
The South Central region also had the largest one-week decline at 36 percent, followed by the South East with 28 percent. COVID wastewater levels in the Twin Cities Metro region dropped by 15 percent and dropped by seven percent in the North West. COVID levels increased slightly in the North East, Central and South East regions. 
Only two Minnesota counties show high transmission
For the fifth week in a row, the Centers for Disease Control and Prevention's COVID-19 Community Level assessment for Minnesota has placed all 87 of the state's counties at a low COVID community level.
According to the CDC's criteria, if the COVID case rate is below 200 per 100,000 people and the COVID hospitalization rate is below 10 per 100,000 people, which is the case in all counties, then it warrants a low community level rating.
Red Lake and Traverse counties are the only counties in Minnesota that meet the high transmission threshold of at least 100 cases per 100,000 this week, although both are below 200 per 100,000.
People who are more vulnerable to COVID infection, or are in regular contact with those who are, may want to take precautions in those counties such as masking while indoors and social distancing, even though the COVID community level is low.
Only nine counties are in the "substantial" transmission range (50 to 99 cases per 100,000) this week.
Additionally, no county in Minnesota exceeded a COVID hospitalization rate of six per 100,000 this week.
Anxiety, depression rates remain elevated
The pandemic years have taken a toll on the mental health of Americans. In light of May being mental health awareness month, we decided to revisit the pandemic-era mental health survey data we first reported on back in October. This data comes from the Household Pulse Survey, conducted periodically by the U.S. Census Bureau since the start of the pandemic. 
The good news is that what might have looked like the beginning of an upward trend in anxiety and depression levels in our last coverage on this topic did not manifest. Rates of anxiety and depression have gone down slightly since a peak in the fall, and they remain below the highest levels seen in 2020 and early 2021. However, they are still well above where they were before the pandemic.
In the most recent poll, from early April, around 28 percent of Americans reported symptoms of anxiety, which is 3.5 times the share who reported such symptoms before the pandemic. The recent rate is 11 percent lower than the relative peak seen last fall, and similar to rates recorded between the fall of 2021 and spring of 2022.
Around 21 percent of Americans reported symptoms of depression in the latest poll, which is 3.2 times the pre-pandemic rate. The recent rate is 16 percent lower than the relative peak seen last fall and is nearly tied with the rates recorded in spring and summer of 2021, which were the lowest rates of depression since the pandemic began.
The trends are similar for Minnesotans — a slight decrease in reported rates of anxiety and depression compared to last fall, but still elevated.
In the fall, we reported that Minnesota had some of the lowest rates of anxiety and depression in the country. For this week's update, we averaged the data just since our last report in October.
Over that more recent time, Minnesota has the lowest rates of anxiety and/or depression in the country, with an average of 27.4 percent. South Dakota and Wisconsin have the next lowest levels, while Mississippi, Oklahoma, West Virginia, Louisiana and Kentucky have the highest rates of anxiety and depression.
For additional information see the COVID in Minnesota Key data page; new data is added throughout the week.