Walz signs universal school meals bill into Minnesota law
Surrounded by school children, teachers, advocates and public officials, Gov. Tim Walz signed a bill into law Friday to provide breakfasts and lunches at no charge to students at participating schools. It makes Minnesota the fourth state in the country to do so. 
During the signing ceremony, Walz told Minnesota parents this will ease some of the stress on them. 
"If you're looking for good news, this was certainly the place to be," said Walz.  "I'm honored and I do think this is one piece of that puzzle in reducing both childhood poverty and hunger insecurity." 
Lt. Gov. Peggy Flanagan was also at the ceremony. She said this was the most important thing she'd ever worked on. 
Grow the Future of Public Media
MPR News is supported by Members. Gifts from individuals power everything you find here. Make a gift of any amount today to become a Member!
The legislation is similar to a program that was introduced during the pandemic to provide meals for all students, but was discontinued at the end of last year.
It will cost the state of Minnesota close to $400 million in the first two years and grow in price in the future. It covers the cost of meals, but not of second helpings or of separate a la carte items.
Many — but not all — students in Minnesota qualify for free and reduced meals. That program is based on household income, and if families are below a certain threshold their students can receive school meals for free or for a reduced price. 
There's also a law in Minnesota requiring schools to provide identical meals to all students, even if their families are experiencing financial difficulties. It's supposed to prevent 'lunch shaming' practices where children are denied food or given substitutes that indicate their family is struggling financially.
But even with these measures, there are still families who do not qualify for free and reduced meals but who struggle to pay for food. In many districts this year, that has meant mounting school lunch debts in the tens of thousands of dollars because there are families who don't qualify for free lunch programs but aren't able to pay.
This bill would cover all school lunches and breakfasts, even if families don't meet current federal USDA household income guidelines.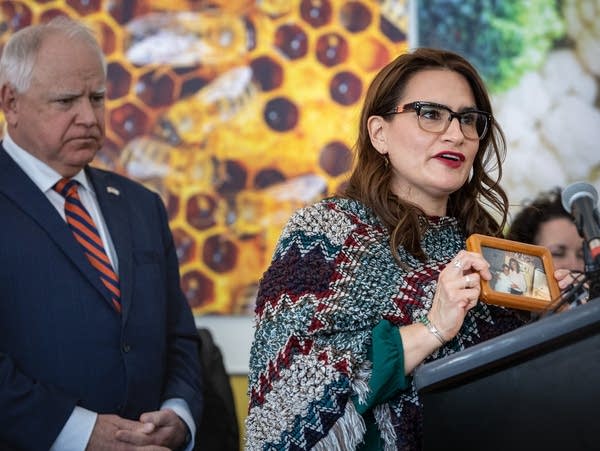 Darcy Stueber is the director of Nutrition Services for Mankato Area Public Schools and she's also the Public Policy Chair of the Minnesota School Nutrition Association. 
Stueber says her district is seeing just over $80,000 in school lunch debt at this point in the year, so there is a definite need families in her area have for this. She says many of those struggling to pay are single-income households that work hard, don't make enough to pay for meal programs, but make too much to qualify for free meals. Stueber says providing meals is just another basic necessity for learning
 "We don't charge for Chromebooks and desks and things like that," she said. "It's a part of their day and they're there for so many hours. It just completes that whole learning experience for the child."
For students in Mankato, Stueber says this will make a big difference in a more relaxed, communal cafeteria. Kids won't need to worry they're racking up debts when they eat lunch, she says. And Stueber pointed out that kids aren't really able to learn well when they're hungry. 
This bill only addresses school meals. But some who work to feed hungry people say this will be a big help.  
Mary Weikum is the director of Food and Nutrition Services for Austin Public Schools.  She also works with other food programs for her city and county. 
"If we take care of the children through this bill, that maybe hopefully would be dollars that could hopefully go to another project that could address hunger," she said.
Students will start receiving school meals at no charge starting at the beginning of the next academic year which starts in September for most schools.