Making George Floyd's Square
Meet the people transforming 38th and Chicago
This is a monthlong series looking at how the community has transformed the site of George Floyd's killing — 38th Street and Chicago Avenue in Minneapolis — and at the people behind its transformation. It is the culmination of reporting over several months, and a partnership with South High School to engage neighborhood youth in telling their community's story.
---
While the angry demonstrations that consumed much of south Minneapolis and other cities this summer have largely disappeared, a protest with deep roots has taken hold at the intersection of 38th Street and Chicago Avenue. Read the story

---
As winter settles in, activity has only picked up at the memorial-turned-autonomous-zone in Minneapolis where George Floyd was killed by police in May. Jeanelle Austin is among the caretakers working to preserve the offerings left at the at the intersection of 38th and Chicago. Read the story
---
For six months, residents — many out of work because of the pandemic — have put their skills to use maintaining an autonomous zone at the Minneapolis intersection where police killed George Floyd. They include a comedian, whose profession prepared them for much more than cracking jokes. Read the story
Grow the Future of Public Media
MPR News is supported by Members. Gifts from individuals power everything you find here. Make a gift of any amount today to become a Member!
---
Efforts to reform public safety amid a sharp increase in violent crime have created tension in Minneapolis, including the neighborhood where police killed George Floyd in May. Read the story
---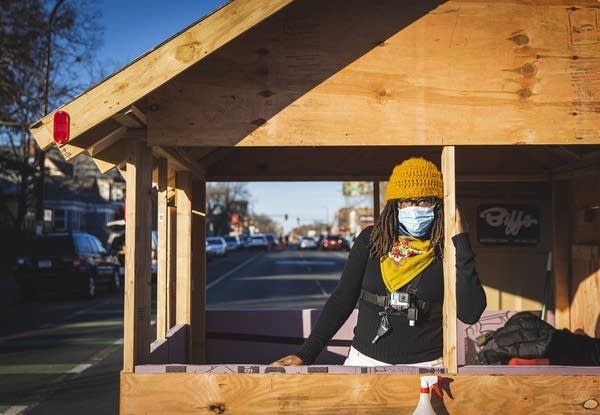 A teacher who's spent 22 years holding teenagers in line at Roosevelt High School in south Minneapolis threw out all the rules when this summer's social justice uprising arrived in her backyard. Read the story
---
In the four-block radius of where George Floyd was killed, residents and volunteers work together to keep things running at the makeshift memorial as they hold the space while pressing the city to meet their demands. Here's how one of the caretakers describes his mission to present what he calls an "aesthetic dignity" to the space. Read the story
---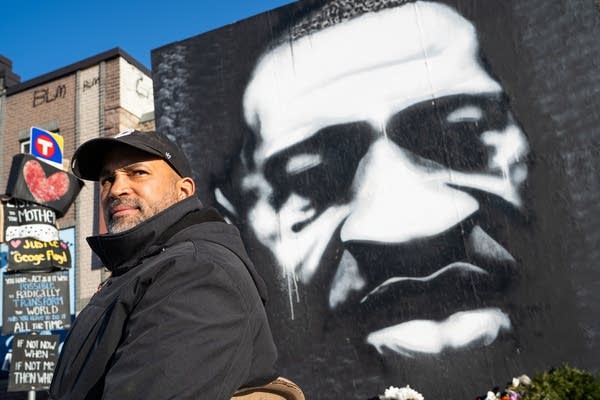 Artist Peyton Scott Russell doesn't consider himself a protest artist, but his 12-foot tall portrait of George Floyd he painted for his childhood neighborhood has become a fixture of protests around the world. Read the story.
---
Over the summer, Kia Bible and other volunteers turned a bus into a medical unit to heal trauma at 38th Street and Chicago Avenue. It's since grown into a nonprofit staffed by volunteers who provide routine care for people in the neighborhood. Read the story.
---
Metro State student Huda Yusuf works with other community members to help people experiencing homelessness and those in need who come to George Floyd's Square.
"Usually it's just holding space — talking with others, seeing what they need. There's so many individuals that come by and so many things that happen throughout the day. You don't know what's going to happen at the square. You also shouldn't be surprised about anything that you'll see down here." Read the story.
---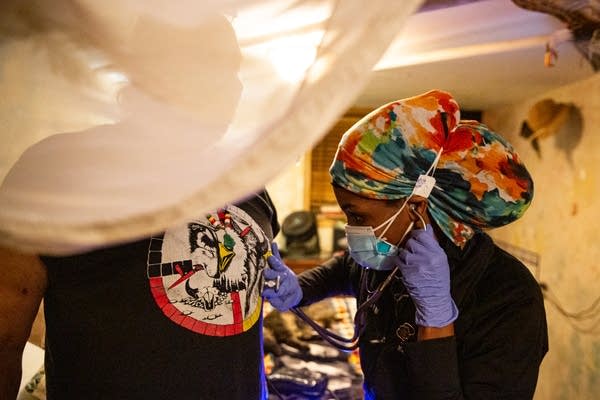 Nurse Jeanette Rupert is hard to keep up with. When she's not treating COVID-19 patients in the ICU, she's dispensing medical care in and around George Floyd's Square, just blocks from where she was born and raised. In the turbulence of 2020, Rupert says she's deepened her appreciation and commitment to her friends, family and community. Read the story.
---
Junauda Petrus is an activist, experimental performance artist and filmmaker. Petrus wrote the poem "Give The Police Department to the Grandmothers" after Michael Brown was fatally shot by a Ferguson, Mo., police officer in 2014. Read the story.
---
Since the summer's unrest, a local nonprofit has been working to "bridge the gap between the community and law enforcement" in south Minneapolis. 
Agape Movement has been a security force at the intersection of 38th Street and Chicago Avenue where George Floyd was killed and where community members and activists have created an autonomous zone. The nonprofit trains young people to participate in community patrols instead of committing crimes. Read the story.
---
When he saw footage of his hometown on fire the week following the police killing of George Floyd, Isak Douah jumped on a plane from Amsterdam, where he was studying fashion, to Minneapolis. All summer, he volunteered to work security at the intersection where Floyd died. Seeing the trauma there, he decided to develop a mobile app to connect people in his community to mental health care. Read the story.
---
Jay Webb is a caretaker and organizer who worked on creating the garden around the "Black Power" fist sculpture at 38th Street and Chicago Avenue. Webb gives his perspective about the emotional connections that take place in George Floyd's Square, and the healing properties it provides. Read the story.
---
Interactive timeline: Making George Floyd's Square
If you don't see the timeline above, click here to view the graphic.