Documents: St. Paul light rail operator caused fatal crash, exposed possible 'loophole' in law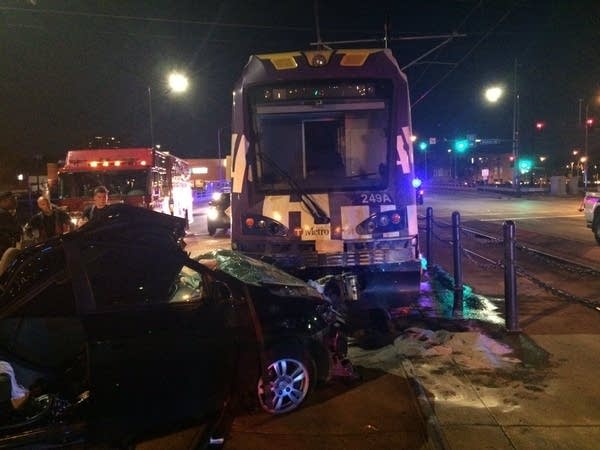 A light rail train operator went through a stop signal and struck a car, killing the 29-year-old driver and injuring his passenger at a University Avenue intersection in St. Paul in July, according to records just released by Metro Transit.
The agency released the information in response to a request for disciplinary records for Abdellatif El Maarouf, the train operator at the controls at the time of the crash. The collision killed Nicolas Westlake, a ballroom dancer, and hurt his dance partner and girlfriend, Neli Petkova.
El Maarouf couldn't immediately be reached for comment, and the union that represented him in disciplinary action didn't respond to inquiries about the case. A report on the investigation into the incident said El Maarouf was "heartbroken for the deceased person and his family," and said that he'd told investigators that the light rail signaling system appeared to have been working along the route.
"In a review of the information presented, it is clear that Mr. El Maarouf was responsible for causing the accident, which resulted in a fatality," says a disciplinary letter dated August 10. The file shows he was fired as a vehicle operator, but can still work for Metro Transit as a maintenance or public facilities worker. One of the forms from the agency lists him as a light rail train "helper," which Metro Transit officials say involves basic cleaning and maintenance.
Grow the Future of Public Media
MPR News is supported by Members. Gifts from individuals power everything you find here. Make a gift of any amount today to become a Member!
And although a Metro Transit file shows El Maarouf failed to stop at the intersection of the Green Line and Eustis Street in St. Paul and lost his driver position, authorities have also declined to press criminal charges in Westlake's death.
A spokesperson for the Ramsey County Attorney's office says there were no felony charges, and the case was referred to St. Paul authorities.
St. Paul city attorney Lyndsey Olson said her office couldn't file any criminal charges against El Maarouf, either.
"The review of possible charges in this case reveals a hole in current Minnesota Statutes preventing us from charging, namely: trains are excluded from the traffic code. The result in this situation despite a fatality, is that because gross negligence was not present, there simply were not other options for charging accidental, negligent, or careless conduct of a light rail train," Olson wrote in an email to an MPR News inquiry about the case.
Olson said the state traffic code specifically excludes light rail trains.
While Metro Transit released the driver's disciplinary records, officials declined to release records of the crash investigation itself, citing possible civil litigation.
"My deepest sympathies go out to the family and loved ones of the victim. One life lost in our community is too much. We strive to ensure our transit system is reliable and efficient, and most of all, safe," said Metropolitan Council chair Alene Tchourumoff in a statement. "Safe for our drivers, our customers, and all those who share the roadway."
Westlake's parents didn't respond to an inquiry about the case. There's no public indication they've served or filed a civil claim related to the crash yet. Westlake's family attorney Chad McKenney was not immediately available for an interview.
A key lawmaker, though, says legislators may consider changing the law in the wake of last year's crash, to address what she says may be a "loophole" in state statute that exempts trains from traffic laws.
"There really needs to be some way for personal accountability to factor in here as well," said state House transportation policy committee chair Rep. Linda Runbeck. "And I think that is a discussion that has probably not been had, but now when we have a case where there's some pretty solid evidence, a lot more needs to be done."
Correction (April 26, 2018): A photo caption previously stated an incorrect date for the crash. The caption has been updated.