Adelante is a special word. It has many meanings. It can mean forward progress and movement or be used as a cry of victory or direction. Minnesotan Latinos are a well established, diverse, complex and growing community in the state. MPR News will be elevating Latino voices over the next five months, reporting on community issues. ¡Adelante Minnesota!
Gallery
22 of 22
1 of 22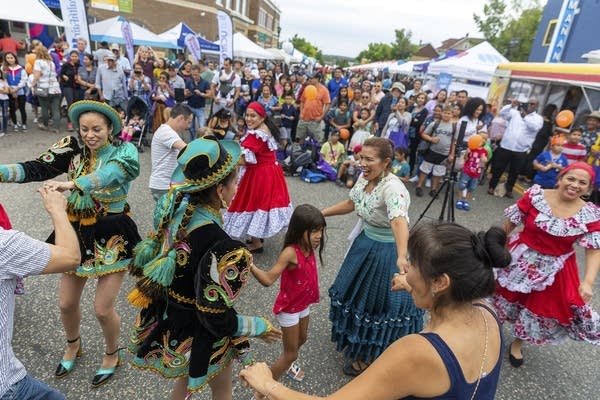 2 of 22
Latino voters were wildly misunderstood in the 2020 presidential election. Pollsters and pundits who spoke of a Latino "bloc" that would vote reflexively for Democrats came to discover it did not exist.
Latino voters chose President Donald Trump in numbers higher than experts expected. In Minnesota, where Latinos are a growing political force, exit poll data analyzed by the Washington Post put that vote at 38 percent for Trump, greater than the 33 percent he received nationally.
The election laid bare what the Latino community already knew: Their identity, experiences and concerns are not the same. 
Read the full story here.
Latinos in Minnesota are a diverse and growing community. Recent estimates from the U.S.
Census Bureau shows the community is about 300,000 — more than six times the size just three decades ago. Patricia Conde-Brooks is part of that growing community. Now that she's been in the country for 45 years, she said conversations about Latino issues seem to be stuck on repeat. Not all Latinos are new immigrants, and they are passionate about issues that go beyond immigration policy. 
"We are more than that," she said. "I think that's what we need to start changing, that rhetoric, that that's all we care about."
Read the full story here.

Make our reporting better by sharing what you care about. Your answers will help raise the voice of the Latino community in Minnesota and help us do more relevant reporting for Latinos in the state. Take the survey here.
Kathryn Styer Martinez is the 2020-2021 MPR News Toni Randolph reporting fellow. She can be reached at kstyermartinez@mpr.org. Follow her @kstyermartinez on Twitter.
Your support matters.
You make MPR News possible. Individual donations are behind the clarity in coverage from our reporters across the state, stories that connect us, and conversations that provide perspectives. Help ensure MPR remains a resource that brings Minnesotans together.