Documenting the flood: Stories behind the photos
You've seen the flood photos from Tuesday. Many Minnesotans are facing the pain of living in a flood-damaged area, and the challenges overflowing water brings to just getting around. The stories from freelance photographers Jackson Forderer and Judy Griesedieck, who went to Henderson, Minn. and Blakeley Township respectively, offer some insight into the picture on the ground.
Judy Griesedieck in Blakeley Township
After reading the MPR News story from Monday night's town hall meeting, I thought my best bet was to try to get into Blakeley on County Road 60, as that's the only one that seemed like it might be open. When I got about a mile from town, the police had the road blocked off to vehicles, but they told me I was free to walk into town. It was all downhill, literally, which meant it would be all uphill when I returned to my car. Not fun, but not a big deal. I took my photo gear in a fanny pack, cell phone and water and rubber boots for the expected mud.
Grow the Future of Public Media
MPR News is Member supported public media. Show your support today, donate, and ensure access to local news and in-depth conversations for everyone.
Once I got into town, I saw that it was pretty deserted, mostly officials and workers. There were about 10 huge tractor trailer trucks lined up, filled with huge rocks, intended for building a dam around the railroad tracks. I hitched a ride with a resident of the town named Chris who had an ATV and knew the area. He took me up the hill to County Road 1, another route into Blakeley, and I saw that the road was crumbling, sinking and had a tree down across the road. After I photographed that scene, my new friend Chris with the ATV took me back into town. Then after chatting with the truckers working on the dam, I hitched another ride with one of them (Bruce) across County Road 6, which had 20 inches of water across the road.
These truckers were forging through that water to pick up additional loads of rocks, and that was the only way I could get to the mudslide area. Bruce dropped me off on the other side of the flooded road and I had time to hang around and shoot the mudslide, the trucks crossing through the water, etc., before Bruce returned with his load, picked me back up and took me back into Blakeley.
After another half hour of wandering and meeting another resident whose house had flooded, I decided to start the long haul uphill back to my car. Just as I started walking, a smaller truck carrying four workers stopped and offered me a ride back up that long hill back to my car. Their job was to bore holes into the mud and sand and they called themselves the "boring" workers.
Jackson Forderer in Henderson
I set out Tuesday morning to take pictures of water and flood damage in the St. Peter area. I came across some flooded backyards and basements close to the Minnesota River on the east side of St. Peter. Then a mailman told me that a house was completely washed away in Henderson, where he was from. Then I got a report of the National Guard being deployed to Henderson as well. Easy enough, I thought. I started north out of St. Peter and was soon diverted to a detour for 169. It led me to the on ramp for 169 North.
One problem, Highway 93 to Henderson was closed. I looked at Google Maps on my phone and decided to go to Highway 19 further up the road. Got off on 19 and headed west. Again, road closed signs. This time I decided to go farther, until some water actually stopped me. I was about a mile from Henderson, according to my phone, when I asked two construction workers the best way to get to Henderson.
"Not this way," one of them told me, and proceeded to tell me politely that I should turn back around before someone told me not so politely. They said my biggest problem was getting across the Minnesota River.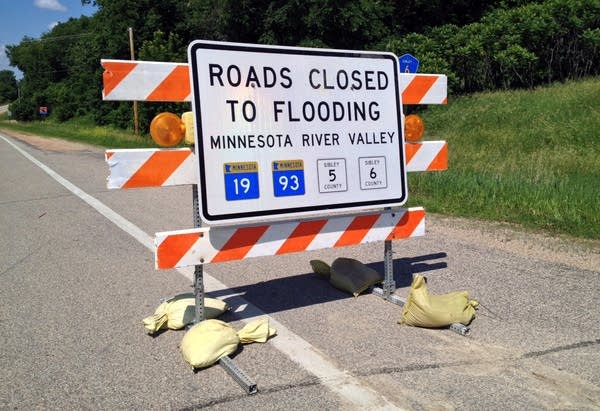 So I went further up the road again to Belle Plaine, and went through town and crossed the river. "Home free," I thought. My first left turn showed me how wrong I was. Not only did the sign show me that this road was closed, but also the highway numbers for about four other roads. I had basically tried getting to Henderson from the south, the east and the north, so only one way left. I took the long way to get to Arlington and headed south and saw road closed sign after road closed sign, but finally not in the direction of where I was headed. I finally got onto Highway 19 and made it into Henderson. As the crow flies, it's probably about 20 minutes from St. Peter to Henderson, but today it took me about an hour and a half.
I hope the roads improve, and not for my sake, but for the people who use them everyday.