Update on weekend temperatures and rain chances
Comfortable temps to start the work week
Minnesota and western Wisconsin will have a chance of scattered showers and an isolated thunderstorm Saturday morning into early Saturday afternoon. The shower/isolated thunderstorm chance may linger deeper into the afternoon in parts of northeastern Minnesota and far southeastern Minnesota plus western Wisconsin. Many areas will have a dry evening.
You can hear updated weather information for Minnesota and western Wisconsin on the Minnesota Public Radio News network, and you can see updated weather info on the MPR News live weather blog.
Sunday rain chances mainly north
Scattered showers and an isolated thunderstorm could move into far northern Minnesota Saturday night. On Sunday, the northern third or so of Minnesota could see scattered showers at times, with an isolated thunderstorm also possible.
The National Oceanic and Atmospheric Administration's North American Mesoscale (NAM) forecast model shows the potential rain pattern from 3 a.m. Sunday to 7 p.m. Sunday: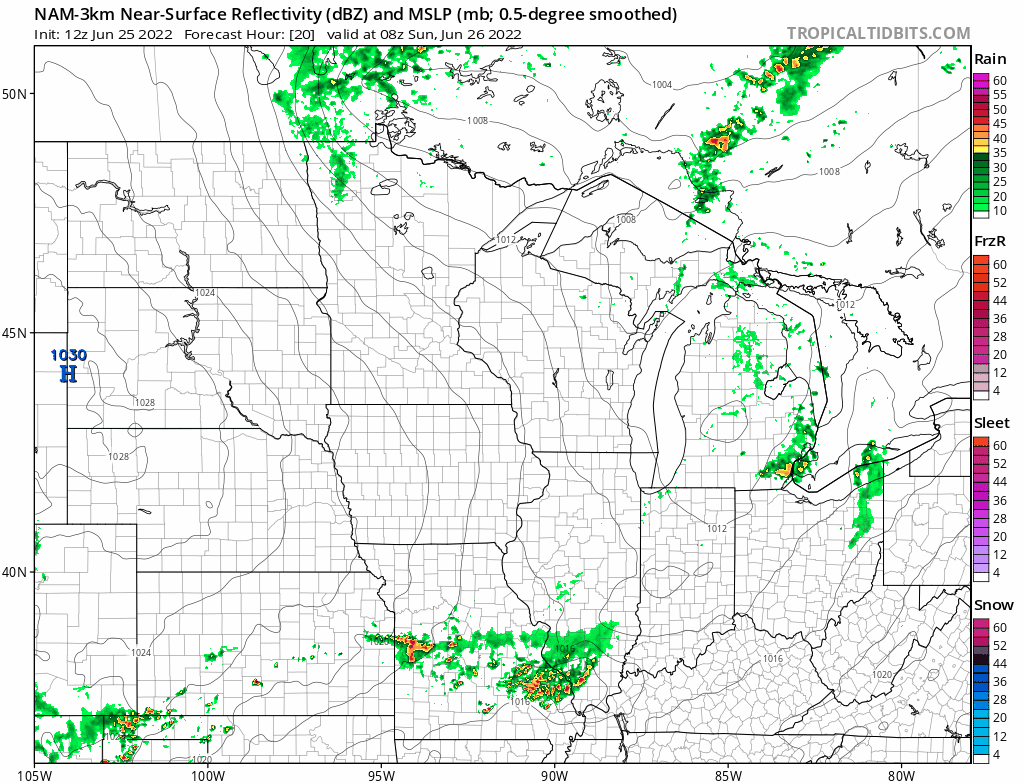 Temperature trends
Before you keep reading ...
MPR News is made by Members. Gifts from individuals fuel the programs that you and your neighbors rely on. Donate today to power news, analysis, and community conversations for all.
Saturday highs are forecast to reach the lower 80s from the Twin Cities metro area into southeastern Minnesota and western Wisconsin. The remainder of Minnesota will have a lot of 70s.
Sunday highs will be mainly in the 70s, but north-central and northeastern Minnesota will see a lot of 60s:
Sunday afternoon dew points will be in the comfortable 40s:
Back to high temperatures, Twin Cities metro area highs are projected to be in the lower 80s Monday and Tuesday, followed by upper 80s Wednesday and Thursday, then lower 80s on Friday.
Rainfall shortage in some areas, way too much in others
The official Twin Cities June rainfall total (at MSP airport) is running more than two and a half inches below normal. Meanwhile, June rainfall in St. Cloud is running 1.66 inches above normal through Friday. The 3.03 inches of rain tallied at St. Cloud on June 24 set a new rainfall record for that date.
Since Thursday morning, there have been some very high rainfall totals in central Minnesota:
One spot in central Minnesota saw a double-digit rainfall total Thursday night into early Friday. This is an excerpt from the Minnesota State Climatology Office post about the Thursday night downpours in central Minnesota:
The storms built southward slowly, with new cells forming on the west side of the complex and moving over previously-hit areas. This led to prolonged and recurrent episodes of intense rainfall, with rain totals well in excess of three inches northwest of Little Falls, and also in St. Cloud and neighboring communities. A small area near Randall and Cushing received extraordinary rainfall totals, leading the closure of US Highway 10 in both directions because of flooding in the area. 

The highest rainfall total received came from Soil & Water Conservation District rain gauge reader near Cushing, and will be marked as "11 inches," because the observer had noted that the rain had reached the gauge's 11-inch capacity and that additional rain was simply pouring out of it. It is not known how much more rain actually fell. Another observer from the same network in Randall recorded 7.40 inches.

In the St. Cloud area, a CoCoRaHS observer in Sartell reported 7.11 inches,  with 5.93 inches reported northwest of town, 5.50 and 4.86 inches in Sauk Rapids, 4.61 inches reported in St. Joseph, and 4.20 inches reported in St. Cloud proper. Through 9 AM, the St. Cloud airport, which is several miles east of the city, recorded 3.81 inches.
Weather nugget
Our average Twin Cities high temp is in the lower 80s this time of year. Official Twin Cities highs (tallied at MSP airport) were warmer than average all this week. We started the week with a record June 20 high of 101 on Monday, then we saw highs of 90 on Tuesday, 86 Wednesday, 96 Thursday and 91 on Friday.
Programming note
You can hear my live weather updates on MPR News at 7:35 a.m., 9:35 a.m. and 4:39 p.m. each Saturday and Sunday.